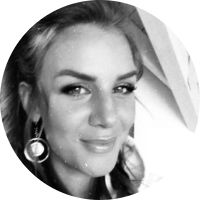 Monique B
(Total Reviews: 5)
Monique speaks German and English, she is from Frankfurt and has been living in Zurich for 5 years. Her enthusiasm for beauty treatments began at a very young age. 13 years ago she started her first studio for hand and nail care. Following this a one-year full-time training course to become a professional make-up artist. Quickly realising where her true passion lay, she didn't just want to beautify her clients' faces for a day, she wanted to get the best out of their skin; and treat, rejuvenate and care for their skin deeply. Over the last 5 years, she has attended numerous further training courses in medical cosmetics and learned a lot of things about our largest organ. She specialised in anti-ageing treatments such as microneedling, chemical peels and BB-Glow.Now she can delight my customers again and again with her beauty treatments and still learn new things every day.She does what she loves for people who love what she does!
Edwina C

Monique was very professional and very knowledgeable. She explained every step of the micro needling process which was not at all painful, just a bit of a tingling sensation

Rosamund T

Monique is so knowledgeable and incredibly professional. I would recommend her to anyone

sabine m

I have just finished my 3rd treatment with Monique and I must admit it was amazing, she explains the whole process really well and the result of the treatment after the 3 treatments is unbelievable I have no pigmentation spots at all, she's really Great

Anna S

Monique is amazing, the treatment has made my skin look so good. It does make a great impact. No need for Botox anymore and the glow is just fantastic! I also love that she comes to my home, no need to step out on the street completely red..

Henriette S

Monique knows exactly what she is doing. Had a wonderful treatments with her and would always recommend her further!