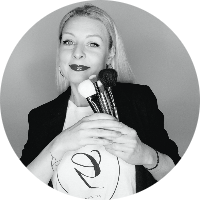 Desislava N
(Total Reviews: 6)
Dessi speaks Bulgarian, English, German and a little Serbian. She has been a successful Professional Makeup Artist for 3 years and always keeps up to date with training and courses. Dessi comes to you with a full makeup and skincare set of products and offers beauty, bridal and fashion makeup.
Rosamund T

Dessi did my makeup for a daytime party, it was fantastic. I wanted a really natural look and she absolutely nailed it.

Neila R

Dessi played a big part in making me feel beautiful on my wedding day! I always thought that I'd never look 100% beautiful in my own eyes. You girls showed me I was wrong…and on my wedding day!! I'm so grateful to all of you 🙏🏽♥️🥰

Anne-Kathrin R

Dessi is very professional, she did a fantastic job with my hair and make-up and made me glow for the ball! I will def book her again! She arrived on time, with a suitcase of make-up and has a very good eye to get the best out of you! Really amazing

Rosamund T

Perfection as always

daisy Q

Amazing!

I asked for a no make up-make up look and Dessi delivered. It was so subtle and beautiful, I was almost fooled into thinking my cheeks were naturally highlighted. Dessi also taught me to blush the bridge of my nose as it gives you a sun kissed lo

Rosamund T

Quite honestly the best makeup artist I've ever had! From 'no makeup' makeup to full 1980s glam for a party, each and every time, Dessi delivers!