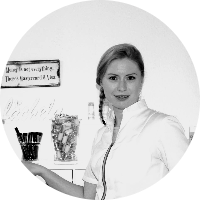 Nadia R
(Total Reviews: 2)
Nadia speaks English, German, Latvian & Russian. She has many years experience working in the beauty and wellness industry. Her attention to detail is second to none and her facials are legendary! Nadia comes equipped with a manicure table with dust vacuum as well as a folding massage table that is also suitable for pedicures as well as facials and massage so even while having your nails done, you really experience the spa feeling in your own home. For a bespoke quote, don't hesitate to contact us, for bookings in Thalwil, Ruschlikon & Horgen Nadia can often reduce the price. For the most cost effective booking with Nadia, go for one of her spa packages which can be adapted to your needs.
Neila R

The last time my skin was this soft was the day I was born!!! Just wow!

Rosamund T

The most flawless manicure. Nadia even brought a portable table with dust vacuum so it really felt like a spa at home!