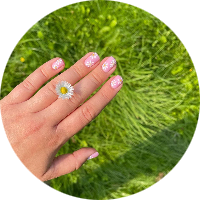 Aleksandra R
(Total Reviews: 19)
Aleksandra speaks English and basic German. Her mother tongue is Polish. Aleksandra made her profession her passion and is a true artist in her field. Before your appointment you can rely on Aleksandra's helpful inspiration or you can decide together make-up or hairstyles that perfectly match your occasion. She brings a lot of experience from working on photo shoots and at weddings. Book Aleksandra for make-up, hairstyling or for a perfect manicure and pedicure, classic, gellac, or hard gel.
Rosie T

So many comments on my hair. Aleksandra did a great job!

Carolina H

Really good

Jenny W

Aleksandra is the best!!!

Elizabeta M

I usually always go to the same salon for pedicure because of my broken nail. This was my first and certainly not last experience with @home pedicure. Aleksandra did an amazing job and repared my broken nail. Very professional and polished. I definetly r

Carin S

Aleksandra is probably the best person I have ever come across in my 50 years to do my nails. She is great!

Carolina H

Perfect, as always!

Anne-Kathrin R

Amazing work on my hair! She does very nice braiding, perfect for a hot summer Party

Jenny W

Aleksandra is the best! Her attention to detail and ensuring my nails look perfect! Always get compliments for my nails after Aleksandra have done them

Bianca L

Alex is top! Thank you

Bianca L

Alexandra is really good in her job which I guess is more of a passion otherwise how can one get this perfect mani/pedi. Great service overall.

Bianca L

Great service from Alexandra. I will book again.

Bianca L

Thank you Alexandra for giving me the best pedicure, again. I really appreciate it.

Malena S

Wonderful massage and excellent products! Alexandra is so kind and professional, will definitely book with her again!

Rosamund T

Absolutely fantastic lash lift

Carolina H

Keeps longer then 3 weeks, great job!

Alyona F

Honestly the best mani/pedi I've had in my life. The quality, friendliness and ease. Just brilliant

Edwina C

Nails are still flawless 3 weeks on! Perfect

Andreea S

I really liked the girl who came but was not Aleksandra.

Tabitha P

Feel amazing! Reborn again & so fresh. Alexandra did an amazing job. She was so friendly, professional, talked through skincare options before the session and got me comfortable, ready for home facial. Would strongly recommend! Like being with a friend but in professional hands. Will be booking again!